Modiphius wargames dev Giles offers a tutorial on how to paint Star Trek's Jean-Luc Picard which is available in the Star Trek Adventures: Next Generation Away team miniature box set here.
To commemorate the launch of the new Star Trek series Picard, I thought I'd take a break from painting Fallout and take a look our fantastic Star Trek miniature range, coincidentally featuring the man himself : Jean-Luc Picard.  
In today's blog post I thought I would share how you can paint this iconic character quickly and with a bit of flair in time for your next session of Star Trek Adventures. For this model I will only be using paints from the Army Painter Wargames Starter Paint Set. This box is ideal for beginners and will get your miniatures ready to explore brave new worlds. It contains 10 paints including metallic paint and a wash and a starter paint brush, covering most primary colours and a few technical paints to add some extra details.
Once you have assembled and primed your miniature (I prefer black and in this instance helps out enourmously as most of the models outfit is black) you are ready to bring Picard to life on your table top.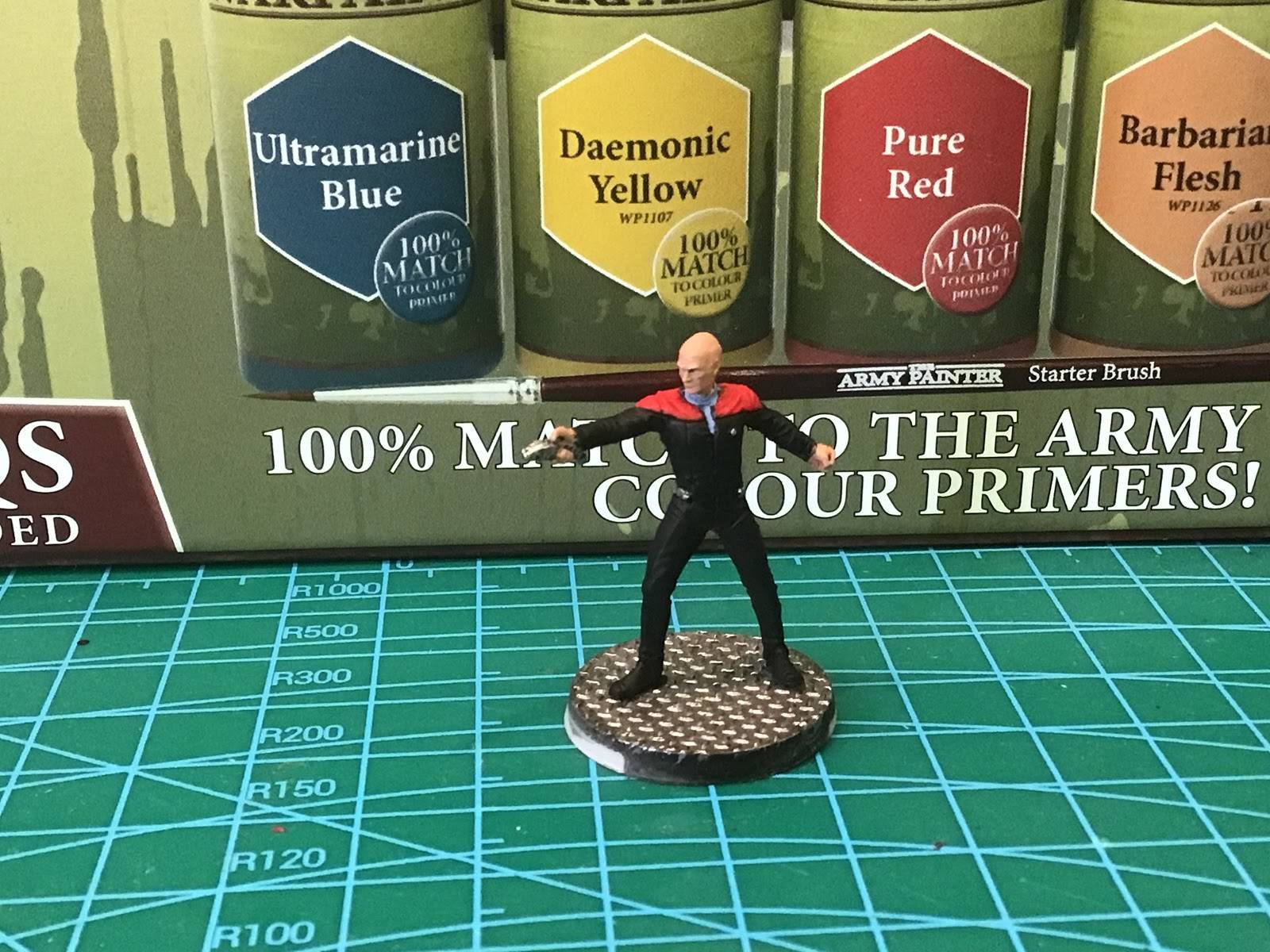 To start with we need to add more black to the model, so add a couple of smooth thin coats of Matt Black. This will have a nicer finish and texture on the model rather than just leaving the spray can black on it. Another benefit of this is that you will be able to cover any parts of the model that may have been missed when priming.  
The next step is to start bringing some colour to the model, start by adding Pure Red to the shoulder and collar areas of Jean Luc's uniform. Again, take your time building up smooth and neat layers to get a nice solid colour.
After this has dried, carefully paint the under shirt in Ultramarine Blue, you can lighten this with a bit of Matt White added into the mix. This is a very small area on the model and one of the few colours that is not black so take your time to make it neat as all those no black colours need to count.
The next step is the skin. Layer the hands and head with Barbarian Flesh skin covering any of the black undercoat. Finally use Plate Mail Metal for the phaser, comms badge and base to finish of your base layers. Although the model is relatively simple to paint, always take your time to make sure none of the resin or undercoat is showing and build up nice solid layers.
Once this has dried coat the whole model with the Strong Tone. This will shade the miniature and add definition to the recesses on the uniform and face. At this point you will have a perfectly decent model to used in your Star Trek Adventure campaigns.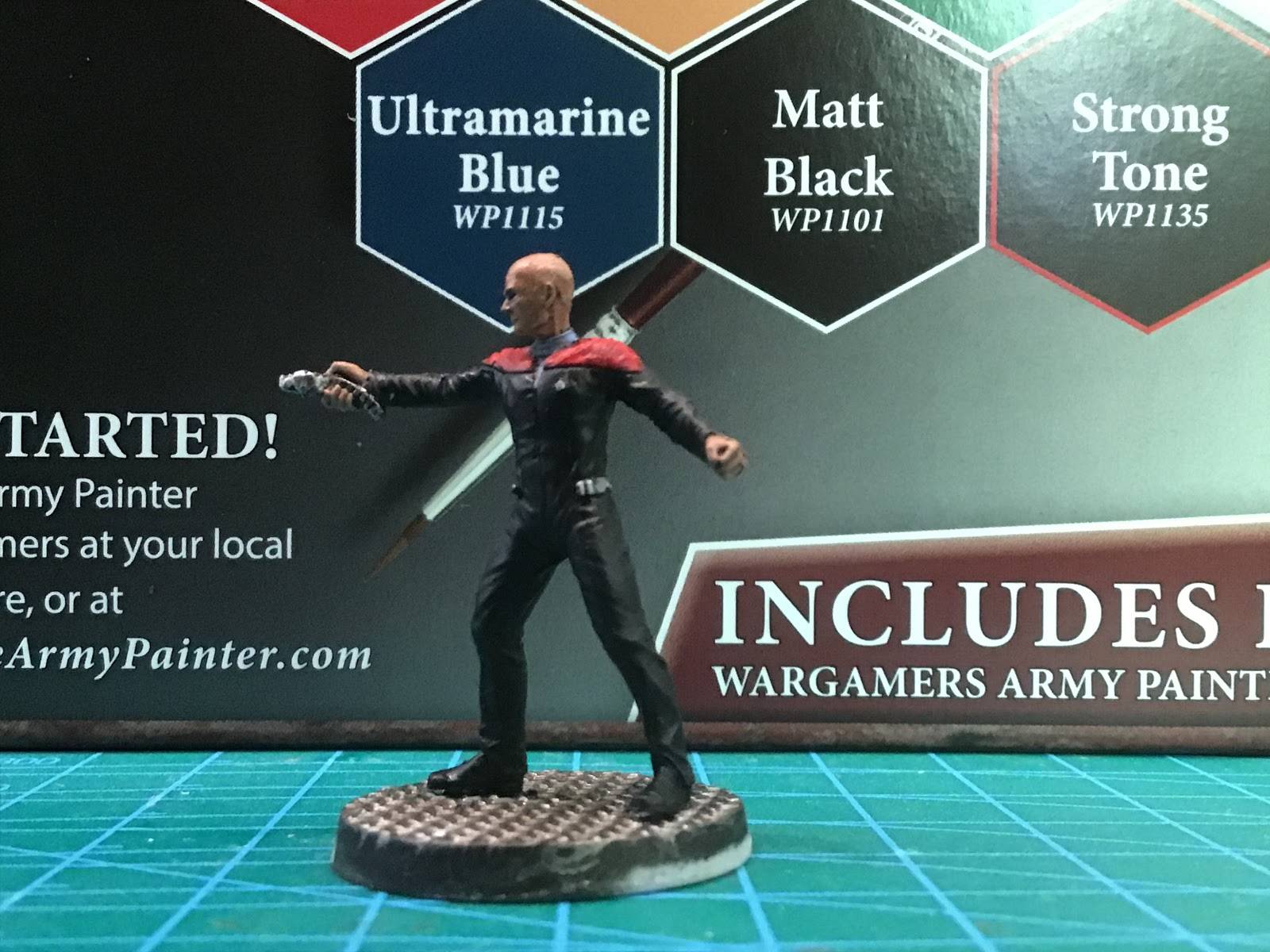 Layers and Highlights
If you want to take your miniature a step further and impress even the most impassive Vulcan science officer at your take then we will take a look at getting the most out of your starter paint set. First thing we need to do is to add some brightness to the black which covers 90% of the miniature. Mix the Matt Black and White to great a dark to mid grey and lightly layer over the areas of black that would most likely catch light or offer hard edges. This doesn't have to be precise but will add some subtle variation in the folds and large surface areas of the body suit. Add some more black or white depending on what areas you want to darken or lighten up. If you make a mistake and add too much white you can correct this by adding more black to the area.  
Moving onto the red part of the uniform, create a mix of Red and Daemonic Yellow to create a slightly lighter red to brighten up the red. Once you have achieved a colour you are happy with move on to the skin areas. Create a mix of white and Barbarian Flesh, you are look for a slightly lighter colour than the original flesh colour. Again, layer and highlight areas that will catch the light the most, notably the shaved head, the nose and brow.
When these areas are dried,tidy up all the metal areas but try to leave the effect created by the Strong Tone where possible to add a bit of depth.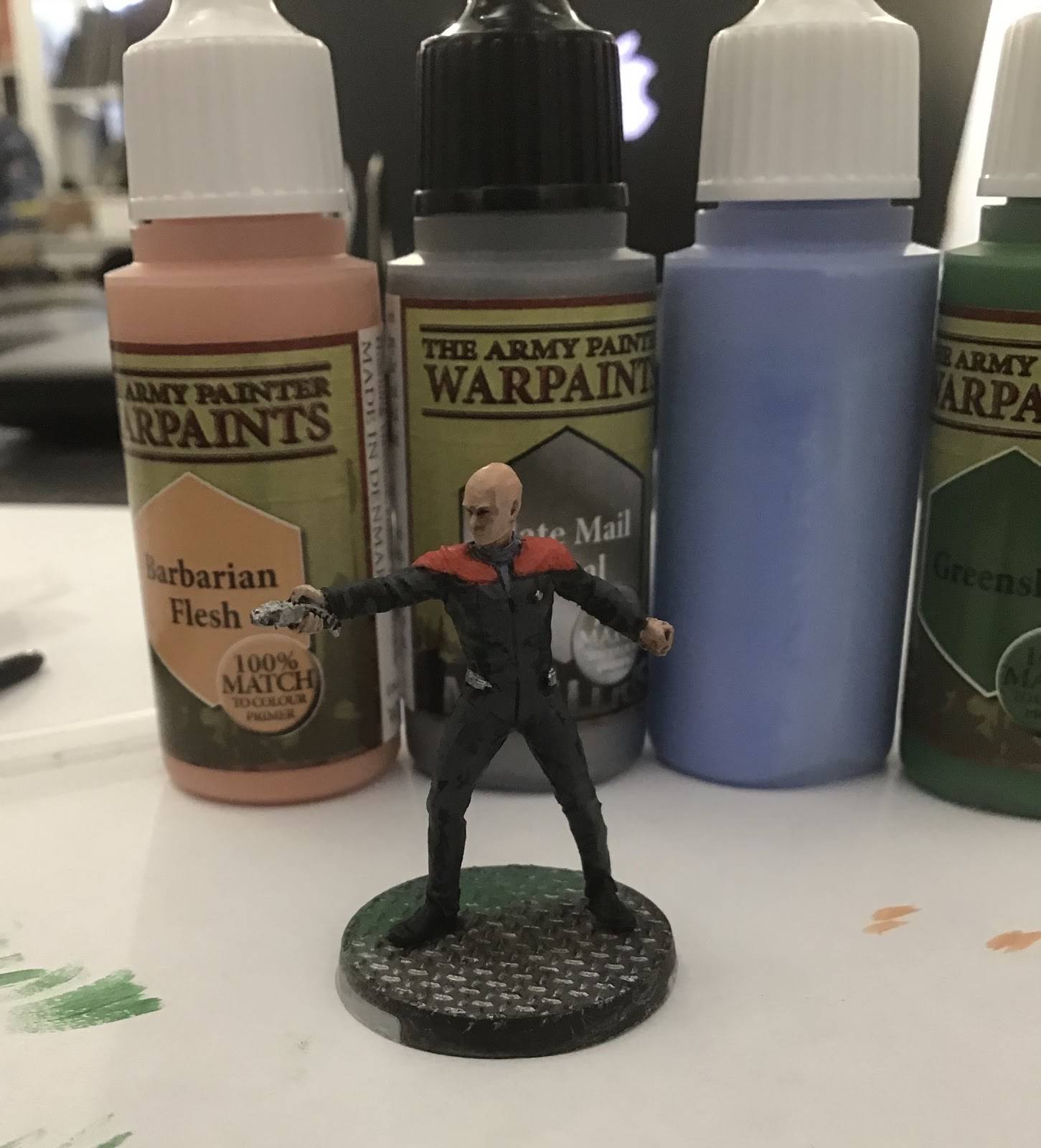 Scenic base
We can finally move onto the base and make it a bit more interesting than just a slab of metal.
Create a mix of Goblin Green and Daemonic Yellow to make minty turquoise colour and apply to the section of the on the base behind Picard. The aim of this was to create an alien radiation style effect while Jean Luc investigates some strange new phenomenon.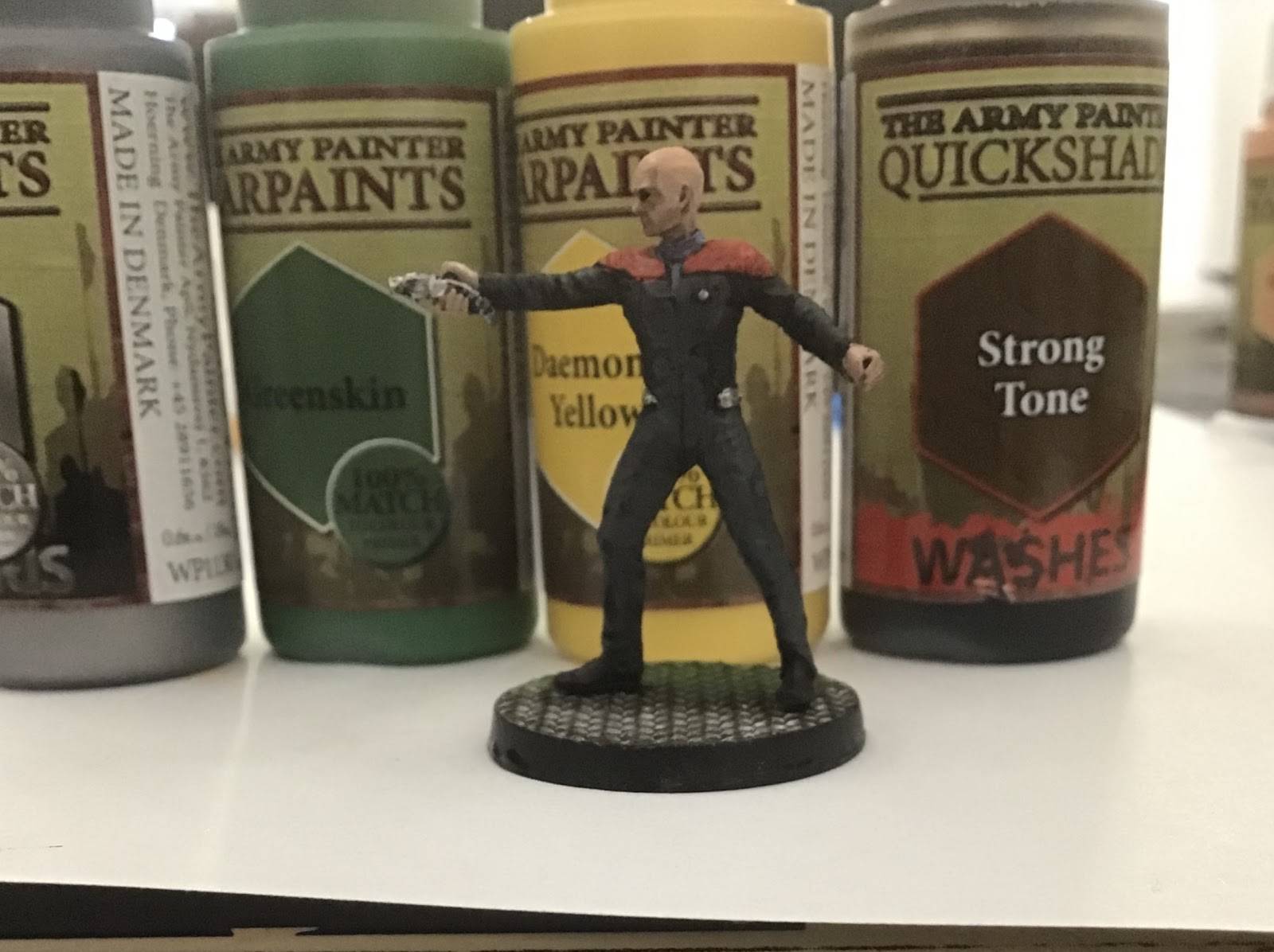 To finish off this model all we need to do now is add a small amount of strong tone to the recesses on the shoulders and on the facial details. Be careful not to drown the model in wash as this is just to accentuate the finely sculpted details and too much will just darken the miniature. Apply a bit more Tone to the base, be careful not to go over too much of the green area as we want this to be a bright contrasting focal point.
Once the wash has dried, dry brush Plate Mail gently over the metal on the base, tried to leave the shaded area directly underneath Picard to create a natural shadow. The next and final step is to drybrush Goblin Green over the radiation glow and then followed by some Daemonic Yellow which is a good natural highlight for greens. All that remains is to paint the rim black and varnish the miniature to protect the models from chipping and grasping Ferengi merchants.
As a final touch I added a scenic grass tuft to the irradiated area, choosing a bright pink shrub that looked a bit like alien flora.
So there you have it, a quick guide to getting one of the most beloved characters in the Star Trek cannon onto your table top. I had a great time painting this model and am looking forward to painting up my box of Star Trek villains for Picard to battle with. Although it's very possible that as a huge Riker fan, Number One might jump to the top of my painting queue.
You can buy the Star Trek Picard miniature here.