Wargames developer at Modiphius Ethan Heywood previews a new Narrative Campaign Expansion 'Caught in the Crossfire' for Fallout: Wasteland Warfare.
Played through all the Campaign Handbook scenarios? 'Beast in the Bottling Plant' comprehensively beaten? Smashed 'Showdown in Synth Town'? Well, have I got some exciting news for you! Released on the webstore today is a brand-new Narrative Campaign, 'Caught in the Crossfire'.
In Caught in the Crossfire, players and their forces will investigate the destruction of an overhead Vertibird at the hands of a mysterious superweapon. Featuring 10 linked scenarios detailing the journey from discovering the crash site, traversing the wasteland via a vast metro network, all culminating in the discovery of the weapon and the struggle to control it.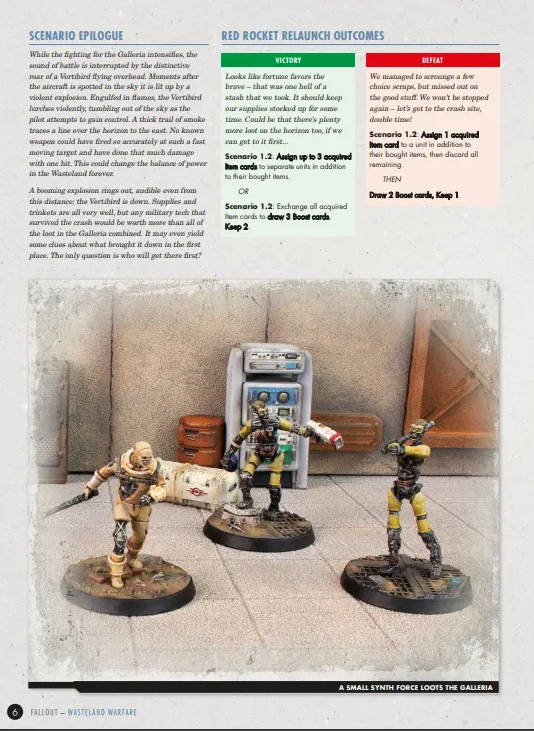 Between each scenario players will be given the option to equip weapons they've discovered on their journey so far or trade them off in exchange for Boost cards that provide an extra bonus to certain things in the game. We wanted this to feel like a real journey for your forces to undertake, a gruelling hike across the wasteland complete with the dangers you would expect from such a venture but also with all the trinkets and treasures you would find along the way. We wanted a force to grow and evolve based on their victories and defeats throughout these scenarios, and we've tried to reflect that in the scenario outcomes that we've written in.
I played against Charlie from the development team in an early version of a scenario which eventually became Scenario 1: 'Red Rocket Discovery' over on our twitch.tv channel. While there have been some changes since then, it gives a good idea of how to get started with the campaign. Additionally, we played it as part of a Settlement mode campaign, a game mode that Caught in the Crossfire lends itself to perfectly. You can check out the stream over on our Youtube channel here.
Not only does the book include the Caught in the Crossfire campaign, but 3 additional scenarios previously exclusive to the Modiphius Twitch.tv audience. The development team really enjoyed writing these slightly wackier scenarios, so we wanted to share the experiences with the fans who want to play something a little crazier than normal. Be warned, these scenarios were designed to be focused on the experience more than balance, so be prepared that tried and tested tactics on other scenarios might not work so well here.
We hope you all have fun with our newest adventure in the Wasteland, and good luck out there!
By Ethan Heywood
You can purchase Caught in the Crossfire in PDF here.