FALLOUT: THE ROLE PLAYING GAME
POST-ATOMIC ROLE PLAYING ON THE TABLETOP
YOU'VE EXPLORED THE COMMONWEALTH WASTELAND, GAMBLED ON THE NEW VEGAS STRIP, AND ENCOUNTERED MUTATED CRYPTIDS IN APPALACHIA,
NOW TELL YOUR OWN STORIES ACROSS THE WASTELAND WITH THE OFFICIAL TABLETOP EDITION OF THE FALLOUT ROLEPLAYING GAME.

A FALLOUT GAME WITH PEN AND PAPER
TABLETOP ROLEPLAYING IS A UNIQUE EXPERIENCE, SHARED WITH A GROUP OF LIKE MINDED FRIENDS. WHETHER YOU STEP AWAY FROM THE SCREEN OR USE DIGITAL TOOLS TO HELP YOU PLAY, YOU ARE IN CHARGE OF THE STORY, COLLABORATING TO COMPLETE QUESTS WITH YOUR OWN CAST OF ORIGINAL CHARACTERS IN AN INFINITELY-DETAILED WASTELAND OF YOUR OWN.

FALLOUT STARTED ITS LIFE BASED ON TABLETOP ROLEPLAYING, WITH ITS TURN-BASED ISOMETRIC GAMEPLAY AND DETAILED CHARACTER CREATION AND IMPROVEMENT, AND FALLOUT: THE ROLEPLAYING GAME IS NO DIFFERENT. BUT HOW DOES A FALLOUT GAME TRANSLATE FROM COMPUTER TO PEN AND PAPER, AND WHERE DO YOU START?

HOW TO PLAY FALLOUT: THE ROLE PLAYING GAME
---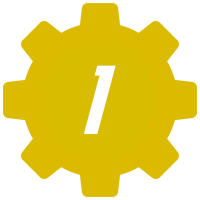 WITH FALLOUT: THE ROLEPLAYING GAME YOU CAN CREATE AN ORIGINAL CHARACTER FROM ANY BACKGROUND: SURVIVOR, SUPER MUTANT, GHOUL, MISTER HANDY, BROTHER OF STEEL, AND OF COURSE VAULT DWELLER. ALL YOU NEED TO DO IS CHOOSE YOUR ORIGIN, ASSIGN S.P.E.C.I.A.L. STATS AND SKILL POINTS, CHOOSE YOUR FIRST PERK, AND GATHER UP YOUR STARTING EQUIPMENT.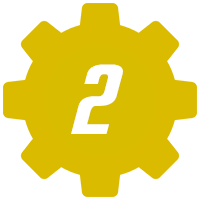 WHILE TABLETOP ROLEPLAYING, THE ONLY ARBITER OF THE RULES IS YOUR OWN GROUP: THERE IS NO COMPUTER CALCULATING THE RESULTS OF YOUR ACTIONS, ATTACKS, OR DIALOGUE OPTIONS. INSTEAD, YOUR GROUP USES DICE ROLLS AND YOUR CHARACTER'S ABILITIES TO DISCOVER IF YOU INTENTIONS SUCCEED OR FAIL, AND THE STORY CONTINUES, WHATEVER HAPPENS...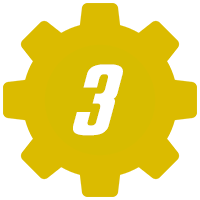 THE GAMEMASTER IS AN IMPORTANT ROLE WITHIN THE GROUP. INSTEAD OF HAVING A SINGLE CHARACTER OF THEIR OWN, THEY PLAY ALL THE NPCS, GIVE YOU YOUR QUESTS, AND CONTROL THE FLOW OF THE GAME. THEY'RE ALSO THE FINAL ARBITER OF THE RULES, USING THE MECHANICS FROM THE RULEBOOK TO RESOLVE THE ACTIONS YOU DESCRIBE AND TELL YOUR STORY.
---
START NOW TO PREPARE FOR THE FUTURE
---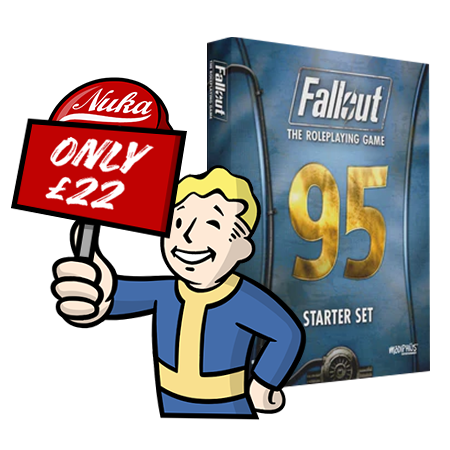 AVAILABLE TO PRE-ORDER NOW
FALLOUT: THE ROLE PLAYING GAME STARTER SET
THE FALLOUT: ROLE PLAYING GAME STARTER SET INCLUDES EVERYTHING YOU NEED TO GET STARTED AND LEARN HOW TO PLAY. THE SET INCLUDES A 56 PAGE RULEBOOK, A 60 PAGE QUEST BOOK, 6 PRE GENERATED CHARACTERS, 2 TWENTY-SIDED DICE, 1 TWENTY-SIDED HIT LOCATION DICE, 4 SIX-SIDED FALLOUT GAME DICE AND 56 NUKA COLA CAPS.
EXPLORE THE REST OF THE LINE
ARE YOU READY TO TAKE THE NEXT STEPS IN THE WORLD OF FALLOUT?
NEVER MISS NEWS FROM THE VAULT AGAIN