TAKE CONTROL OF MASSIVE FLEETS IN EPIC TABLETOP SCI-FI BATTLES BASED ON THE AWARD-WINNING VIDEOGAME SERIES!
LIVE NOW ON KICKSTARTER, HOMEWORLD: FLEET COMMAND PUTS WOULD-BE ADMIRALS IN CHARGE OF KUSHAN OR TAIIDAN FLEETS FIGHTING IT OUT IN FAST PLAYING 1-4 PLAYER GALACTIC BATTLES FEATURING 101 PLASTIC MODELS OF FIGHTER SQUADRONS, CORVETTES, FRIGATES, DESTROYERS AND FLEET-BUSTING CAPITAL SHIPS, INCLUDING THE MOTHERSHIP.
SIGN UP FOR THE LATEST NEWS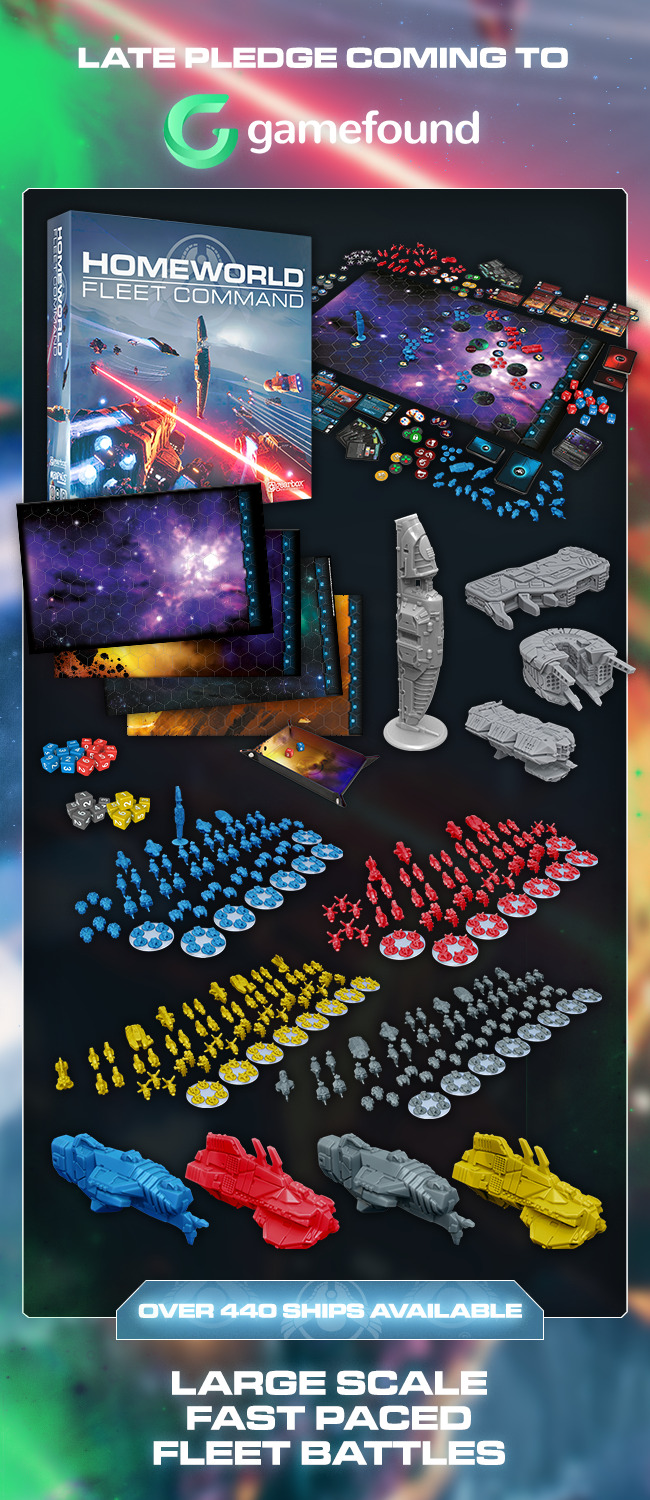 TENSE, FAST-PLAYING SPACE BATTLES AWAIT
• A 10-PART CAMPAIGN THAT WILL TAKE PLAYERS FROM THE FIRST FIGHTER SKIRMISH TO EPIC BATTLES SUCH AS RETURN TO KHARAK, SUPERNOVA STATION, AND TENHAUSER GATE.
• STEP-BY-STEP SCENARIOS THAT MAKE IT EASY TO JUMP RIGHT INTO THE SHOES OF AN ADMIRAL AND GRADUALLY LEARN THE CORE GAME MECHANICS AS THE SIZE OF YOUR FLEET INCREASES.
• 101 PLASTIC SHIPS IN THE BASE GAME INCLUDING THE ICONIC MOTHERSHIP, 48 FIGHTERS, 24 CORVETTES, 24 FRIGATES, 2 CARRIERS, AND 2 DESTROYERS.
THE EXPANSION ADDS ANOTHER 100 SHIPS TO GROW YOUR FLEET.
• SOLO RULES THAT LET ONE PERSON PLAY EITHER SIDE AGAINST A DETERMINED OPPONENT OR UP TO FOUR PLAYERS CAN SHARE THE COMMAND.
• MULTIPLE COPIES OF THE GAME CAN EVEN BE COMBINED TO CREATE EPIC FLEET BATTLES!
© 2022 GEARBOX. PUBLISHED BY GEARBOX PUBLISHING. HOMEWORLD, GEARBOX & THE GEARBOX PUBLISHING LOGOS ARE REGISTERED TRADEMARKS, AND THE HOMEWORLD LOGO IS A TRADEMARK OF GEARBOX ENTERPRISES, LLC.
ALL RIGHTS RESERVED.